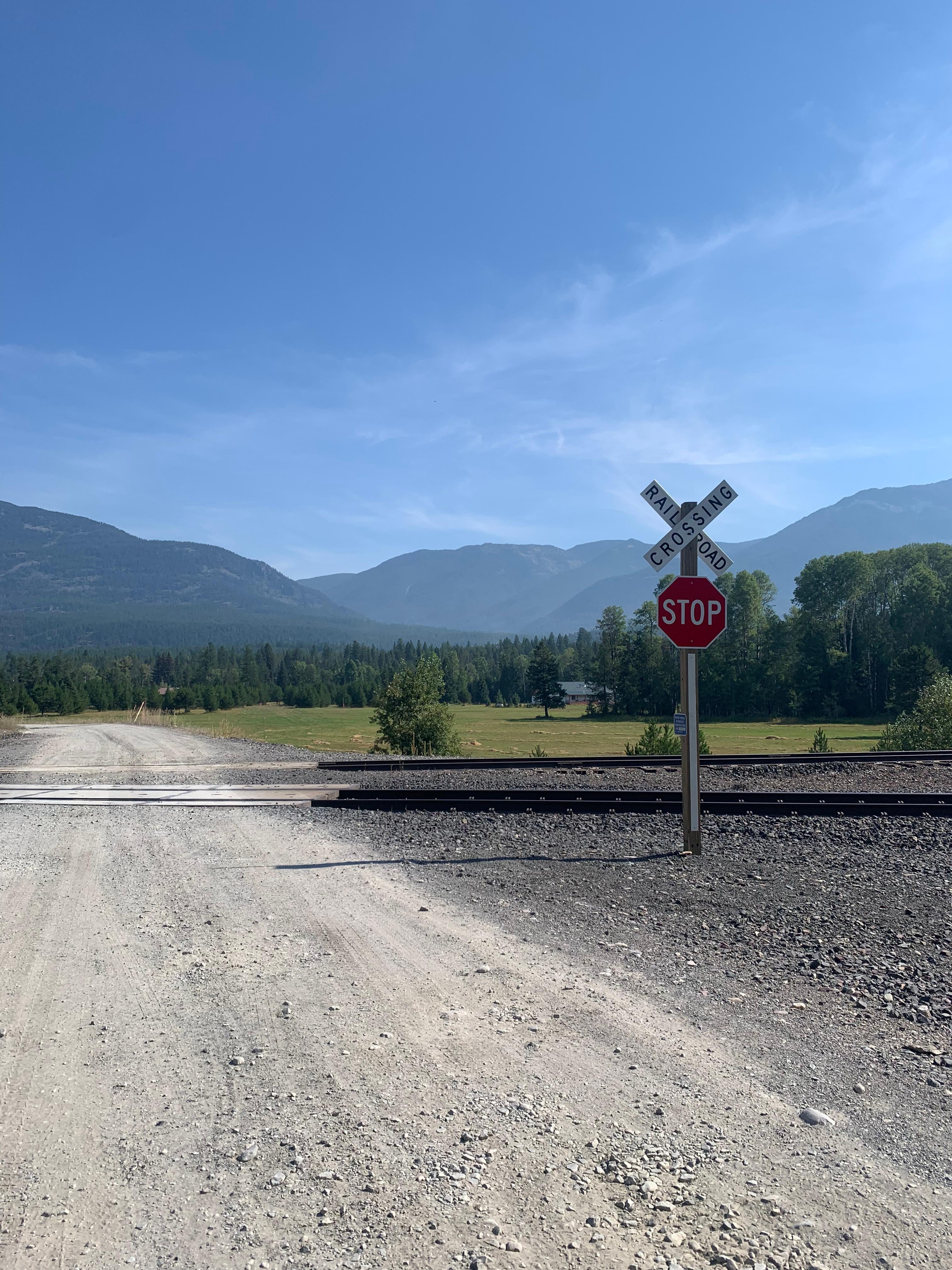 Every description of the Great Divide is relatively the same. Usually something like, "an impossibly long, winding route that never takes you directly from point A to point B." The point is to get off the main roads, onto forgotten dirt roads and trails that take you no where but always somewhere at the same time.
But, what about fire? The books or websites didn't say anything about fire.

Confused? Don't worry, I'll steer this ship (or should I say bike — feel free to click away after that one) back on course. But first, I'm going to visit a pie shop. It might not exactly be the trail on the map, but we did it in Great Divide style.
Day 7 - Decisions, Decisions
Eureka was a point of celebration, but it was also time to make an important decision. The trail directed me Northeast, toward the Whitefish divide which is apparently very isolated and known for its wildlife.

However, about 10 miles North of my next campsite raged a uncontrolled wildfire. While the road to the campsite was still open, local Eurekans remarked at how close I would be to the fire and how the smoke could cause serious complications by itself.

Now, as a New Englander, I've experienced my fair share of weather. Thunderstorm? Hide under big trees or structures. Flash floods? Get to high ground. Ice storm? Build a fire and hope you don't lose power for three weeks.

Forrest fire? Now that's a new one for me and whether it was the locals scaring me straight, or me remembering I only have a week's worth of Northwest wilderness experience, either way I opted for an alternative route to Whitefish.
Fortunately I picked a good one! While most of these roads were paved, it took me through parts of Montana that I only thought existed in Red Dead Redemption 2. Rabbits hopped along the road, and deer scampered by every few seconds as if they didn't see me. I had to dodge these three when they jumped in front out of no where.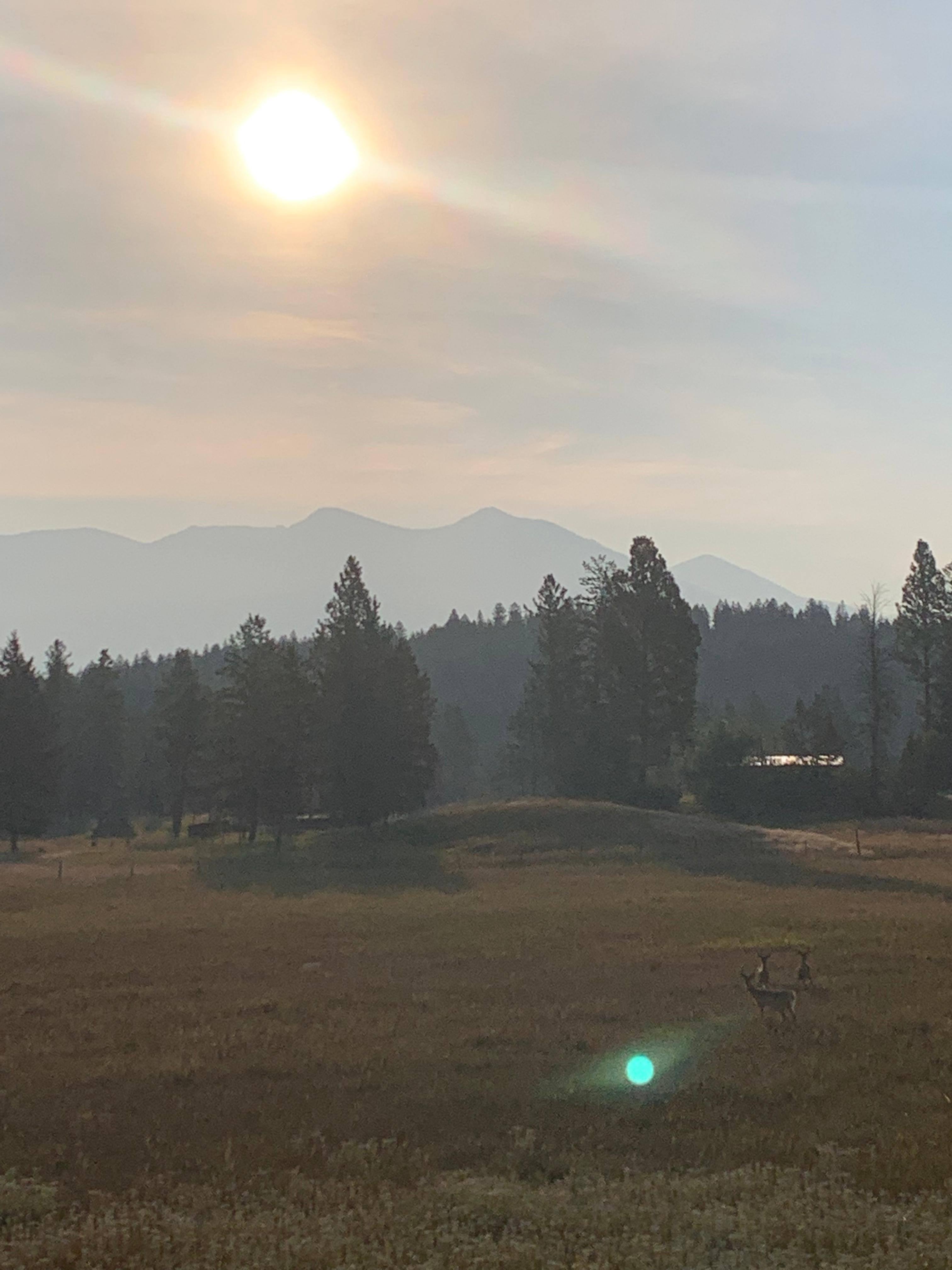 This road also led me to a homemade pie shop in perhaps the smallest town I had ever seen. It was too early for pies but the homemade Boston Creme doughnuts were a delight.
Since this route would save me a fair amount of time, I was in no rush to get to Whitefish. I decided to make camp at very secluded campground and spent the afternoon playing in the river, tinkering with my bike, and watching the occasional train roll by. I had no cell service, no other campers to chat with, no Clemens (sad), just my thoughts and the mosquitos to keep me company.
Day 8 - Town Day
Located just 25 miles south of my secluded little campsite was the lively town of Whitefish. Whitefish wasn't like the last few towns that consisted of one road and maybe a commercial business. Whitefish had (at least) 2 busy roads with shops, restaurants, and of course, a Dairy Queen/Casino — we live in an amazing time.
Excited to explore the town, I decided today would be a town day. I camped by the lake, ate a huckleberry hot sauce burger, and met Piper and her owner who were selling this super cool antler lamp.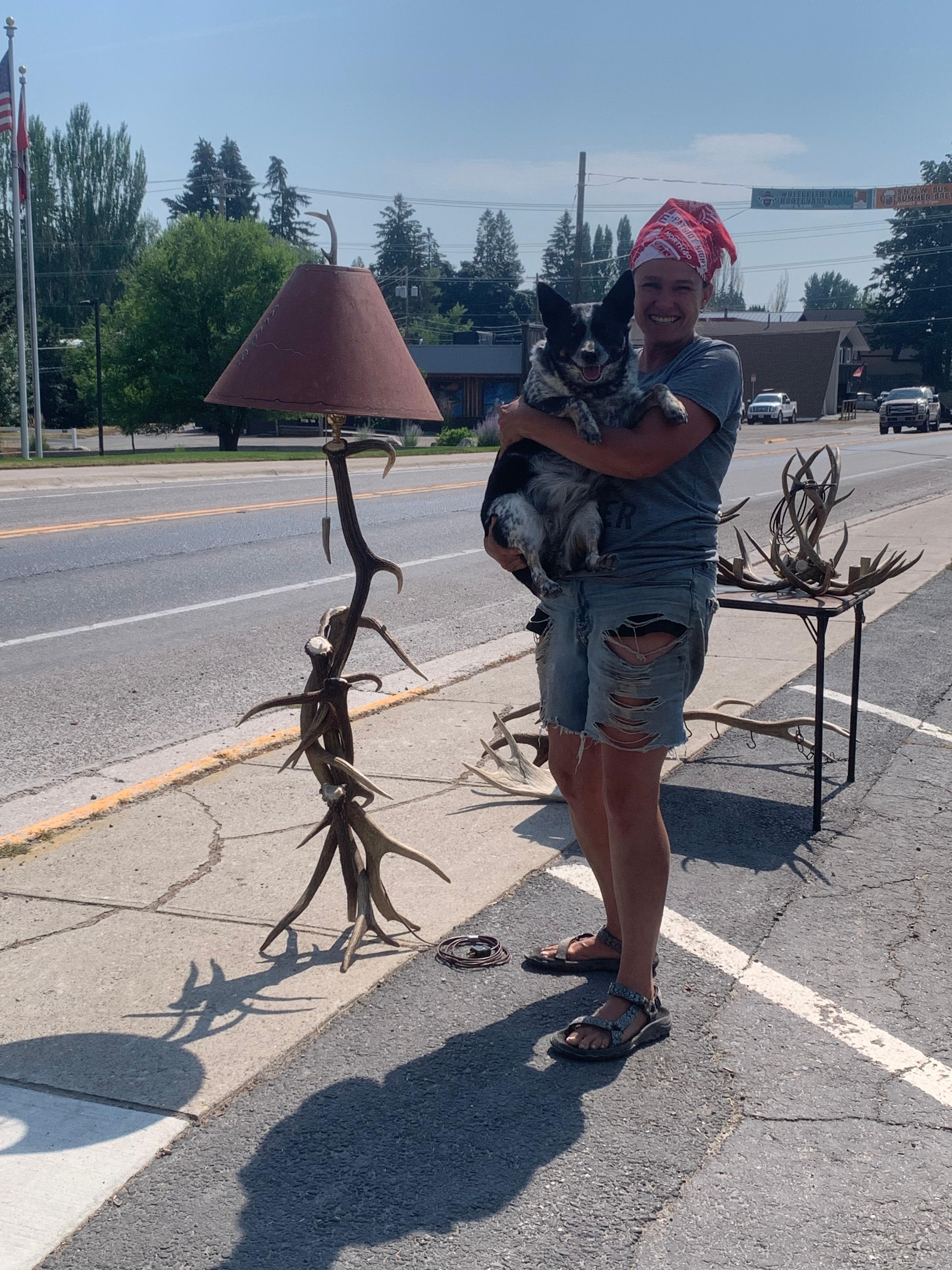 I also made a few new (human) friends, Bryant, TJ, and Gurd — who hailed from the Swiss Alps. We had all been redirected by the Forrest fires and were forced to compete with the high speed trucks on highway 83. It seemed like everyone was thinking the same thing about the fires and talking to them made me feel much better about my decision to reroute.
We celebrated a day off by tying a few on at the local bar and gearing up for a day of flat riding.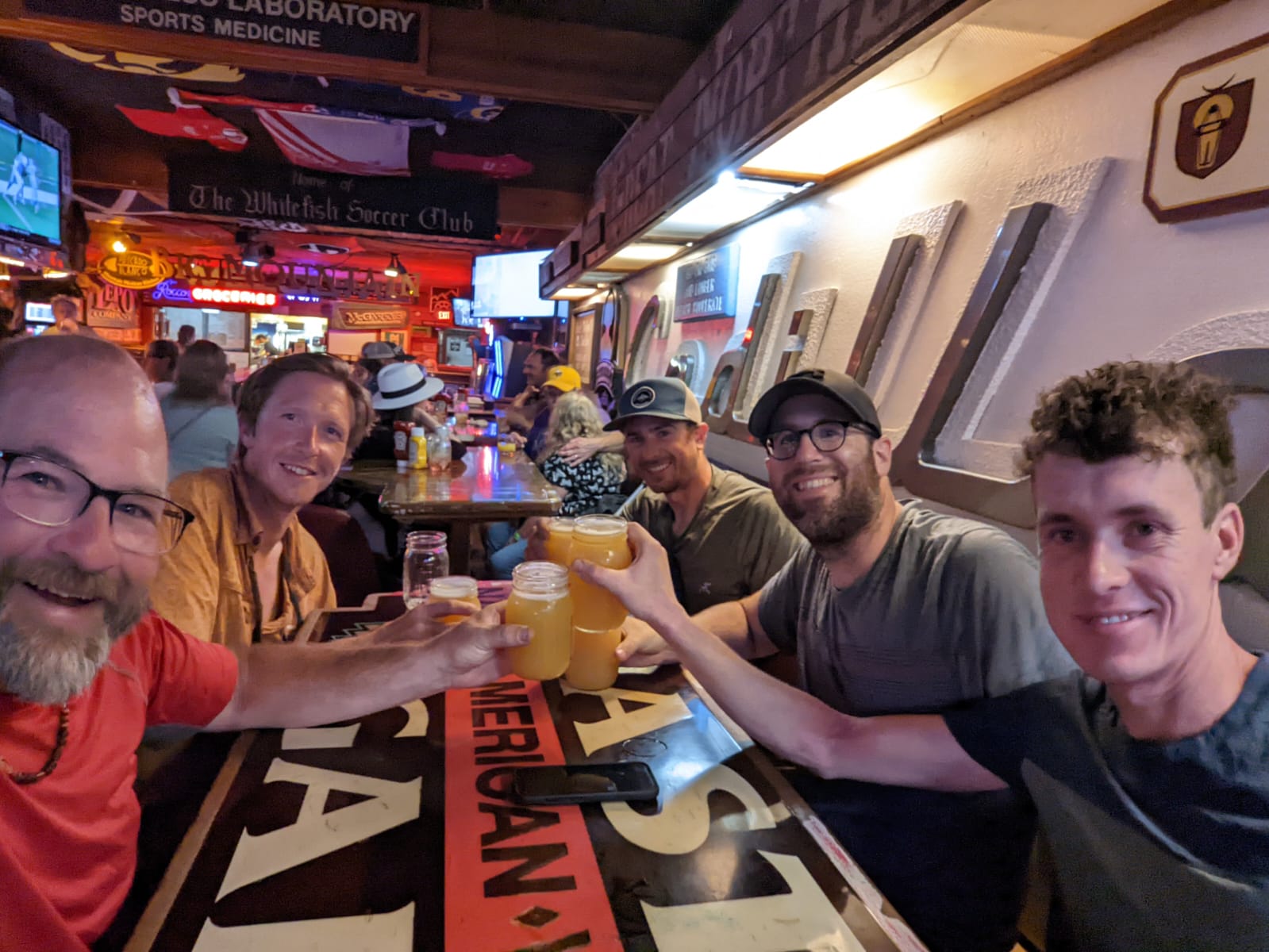 Day 9 - The Flathead Monster
I'll be honest, the riding on day 9 felt slightly underwhelming (I know poor me right?). But I was back on route and had another town in my sights.
Big Fork, Montana — home of the Flathead Monster. The Flathead Monster of course being a double decker burger with thousand island dressing. I also got a huckleberry milkshake that has sent me on a search for huckleberry anything at every store.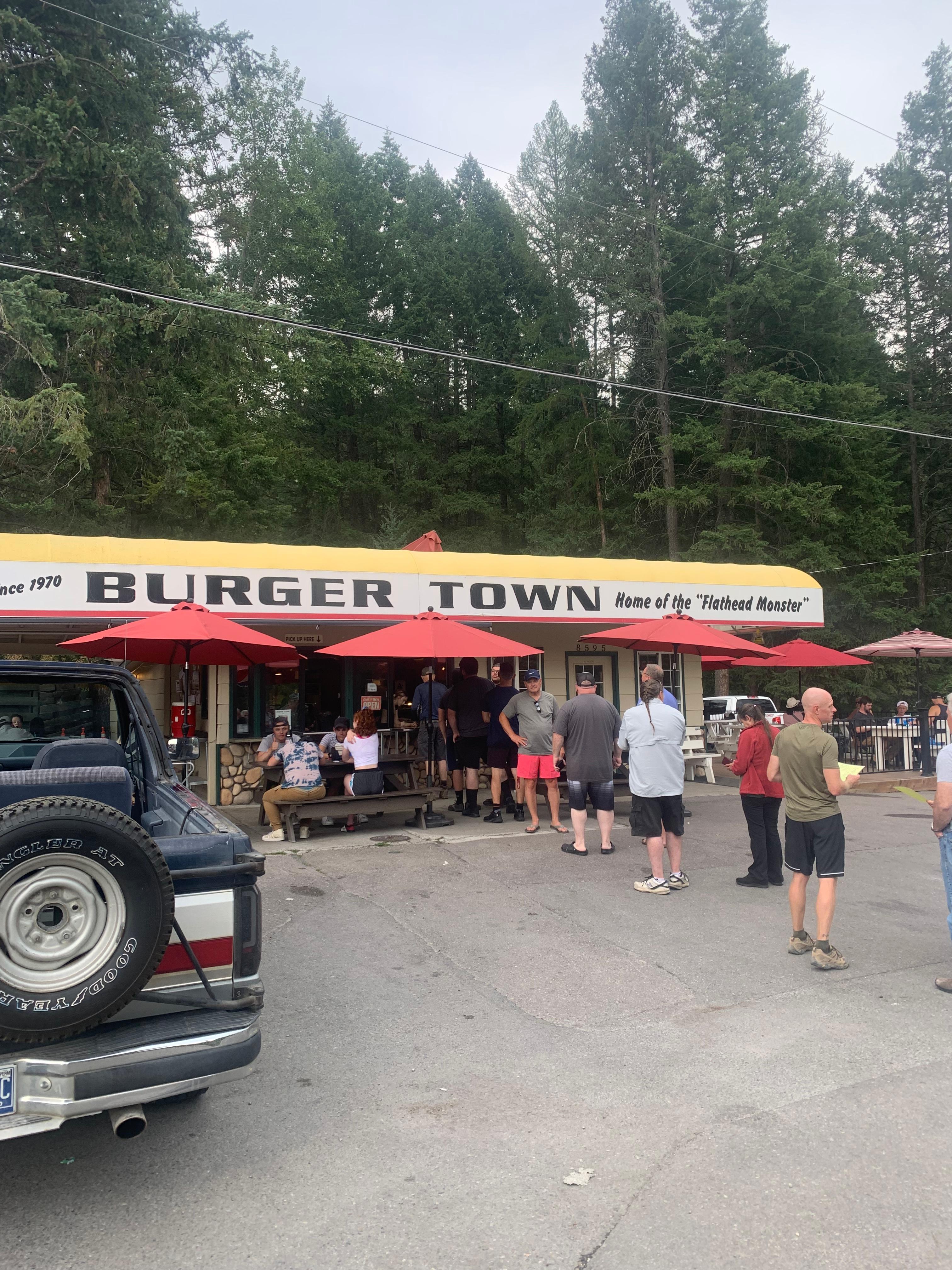 In Big Fork, I restocked my supplies and started planning out the next few days. I knew I would be in deeper woods, about a few days ride from Helena. I also learned that this section of the Divide is likely the most challenging uphill you will face. It's 6 miles long, steep, and rewards you with no stunning views or nice restaurants to recharge.
Normally I would roll my eyes at the thought of more hills, but I'm oddly excited. I miss making my little campsite in the woods, going through my nightly checklist, and cooking an impromptu meal on the Jetboil. The glamping has been nice but I'd say it's time to return to the woods!