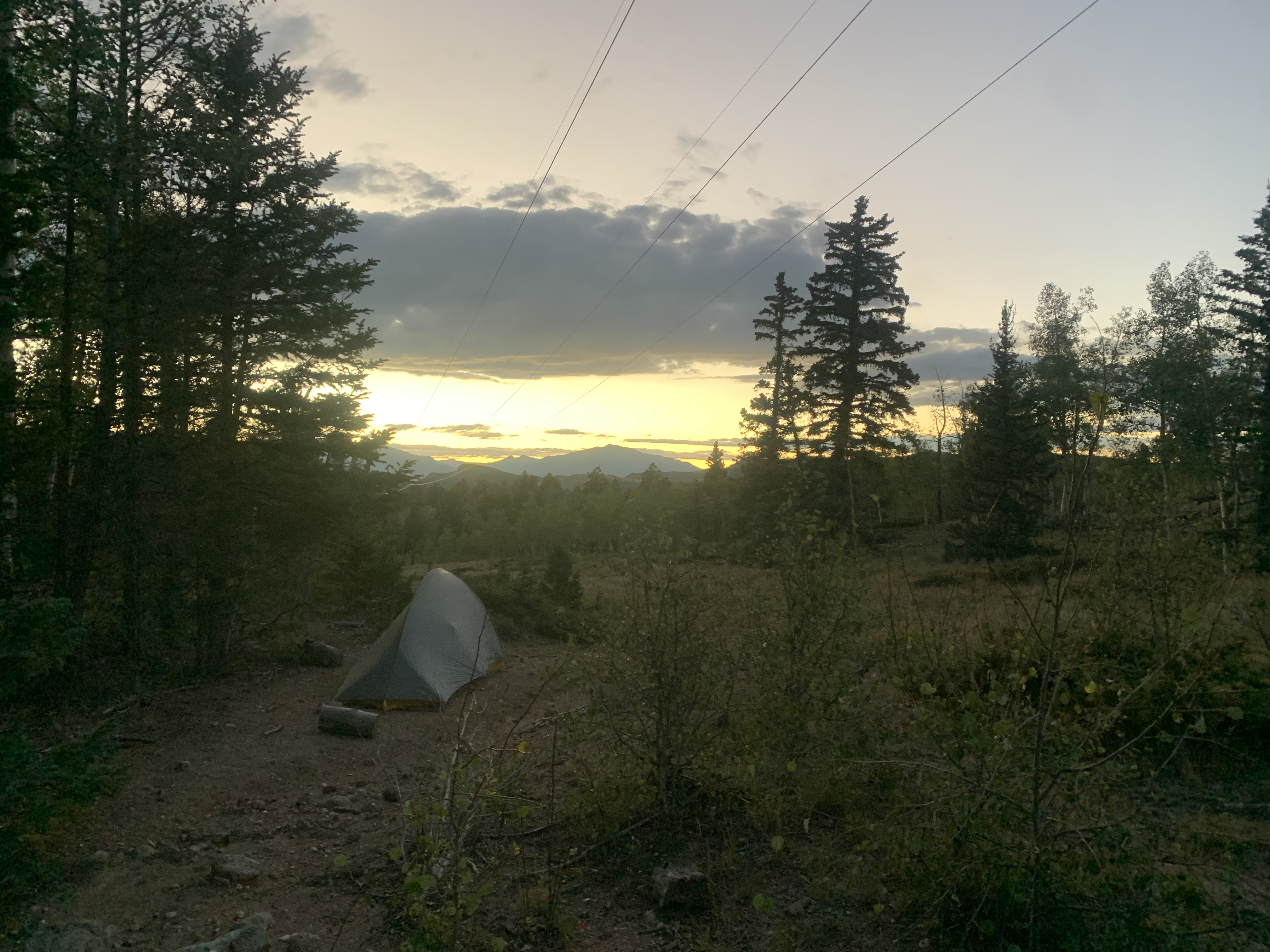 On the Great Divide, towns are a safe haven. There's shelter, people, and most importantly, food.
When there are fewer towns, there's no rush to get to camp. Once the tent is up and I've finished stuffing my face with ramen, there isn't much to do besides write these blog posts.
It's easy to get sucked into the comfort of going town to town, making a routine of camping out cozy, safe campsites. While this is nice, when you don't have another town between campsites, a rough night in the woods can be a bit of a shock to your system.
And, that's exactly what happened here.
Day 36 - Frisco
Now fully entrenched in the Colorado section, I find myself having a little more fun than I had been the past couple of days. Colorado isn't like Wyoming. There's forests, towns, and paved bike paths that give you much more to look at than shrubs and hills. Hence, this picture: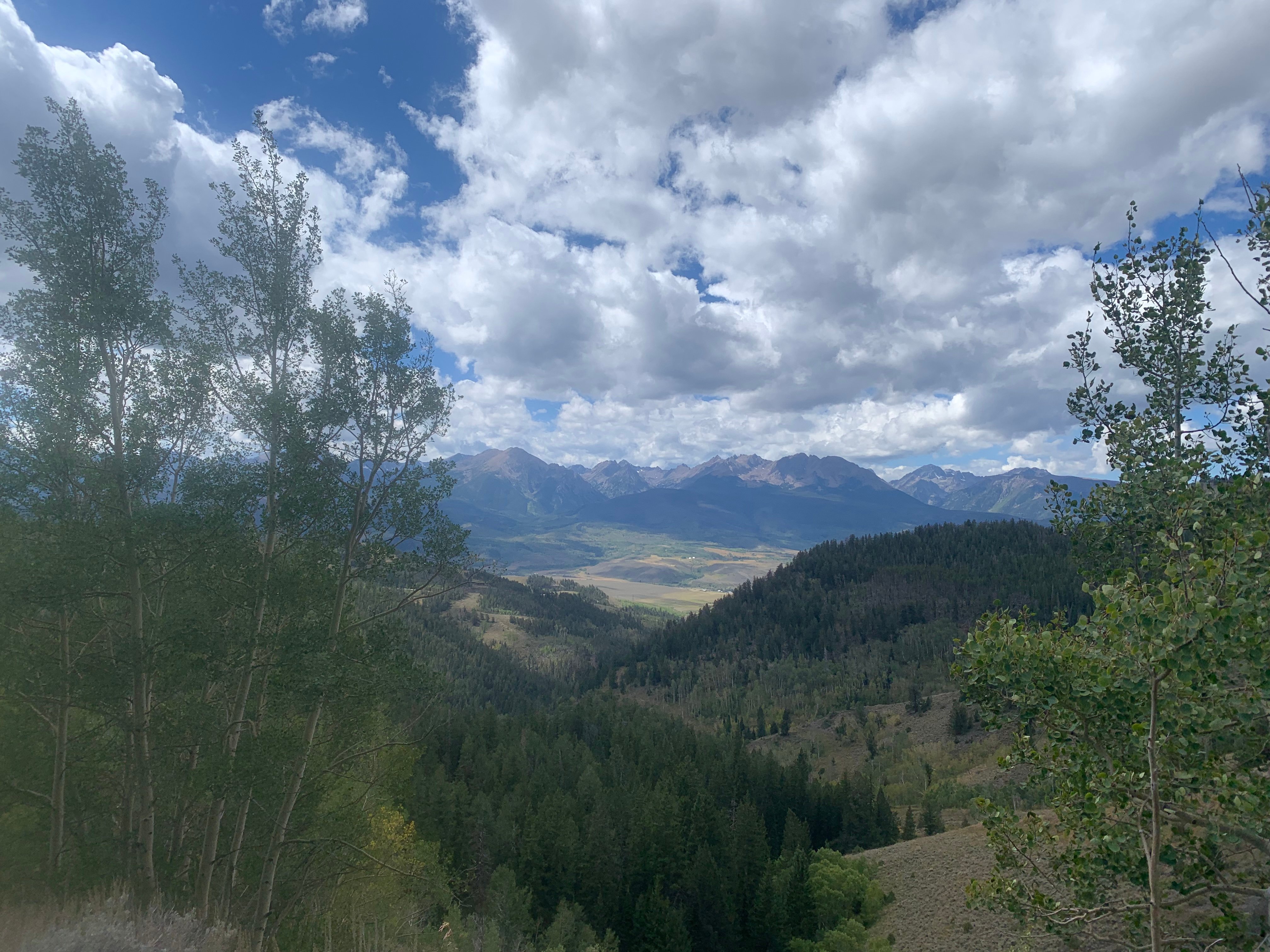 The next town that I passed through was Silverthourne. It was a great place to restock and hangout for an afternoon. With my campsite 5 miles away, I was in no hurry to head out of town.
Taking my time, I cruised into the campground and found every spot taken. I was in disbelief. There we're over 50 sites in this campground and not a single one was open.
Running out of sunlight, I pushed on to the next town, Frisco, about 10 miles away. I found another campground, but encountered the same problem — all full.
About ready to pitch my tent on the side of the road, I climbed a sizable hill to the last campground in the area. This one was a parking lot with an impressive view. Not what I had imagined, but there was a spot open, so I wasn't complaining. Day complete.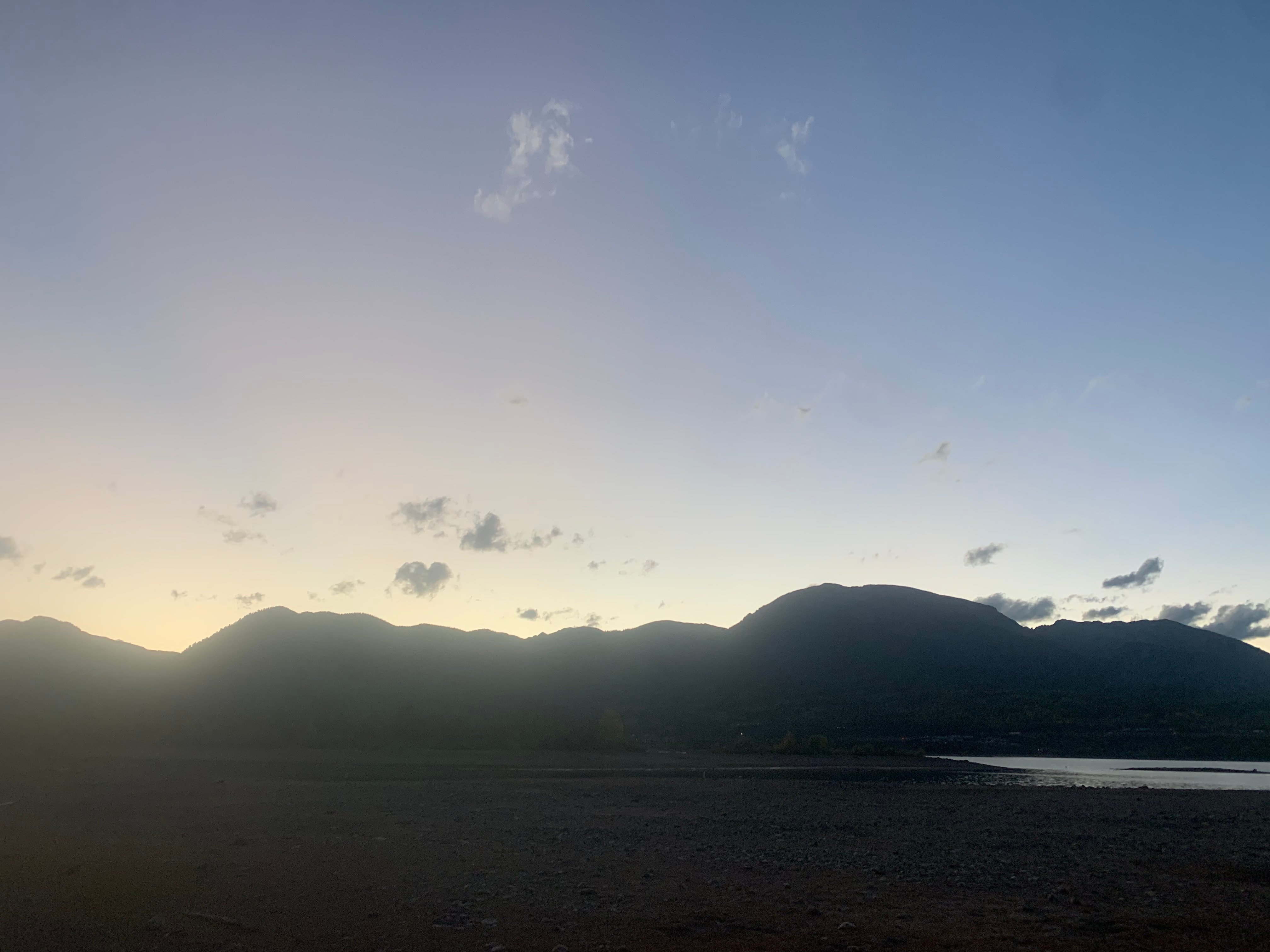 Day 37- Breckenridge
The positive about traveling the extra 10 miles was that now I was in a position to really take it slow for the next day. The timing was ideal because today I would pass through Breckenridge, a popular ski town.
Having a whole day to hangout, I spent my Sunday watching the New York Jets shock the Browns in a stunning 4th quarter comeback. Remember: Joe Flacco is elite.
And that's it! That was the highlight of the day. Not super glamorous, but I enjoyed myself.
If you want more drama, day 38, now that one is a little more interesting.
Day 38 - Almost Salida
As I am writing this I am listening to coyotes(?) or dogs (?) howling to my left, and an elk crashing around the woods to my right.
How did I get here? Let's back up.
I slept in today and emerged from my tent around 8am. This got me on the bike around 9:15, a late start but still plenty of time to travel 40 miles to Hartsel, the next town and campsite on the map.
On my way, I ran into something I haven't encountered since Wyoming — Great Dividers! We were headed in the same direction, so we rode a few miles together and chatted about our travels.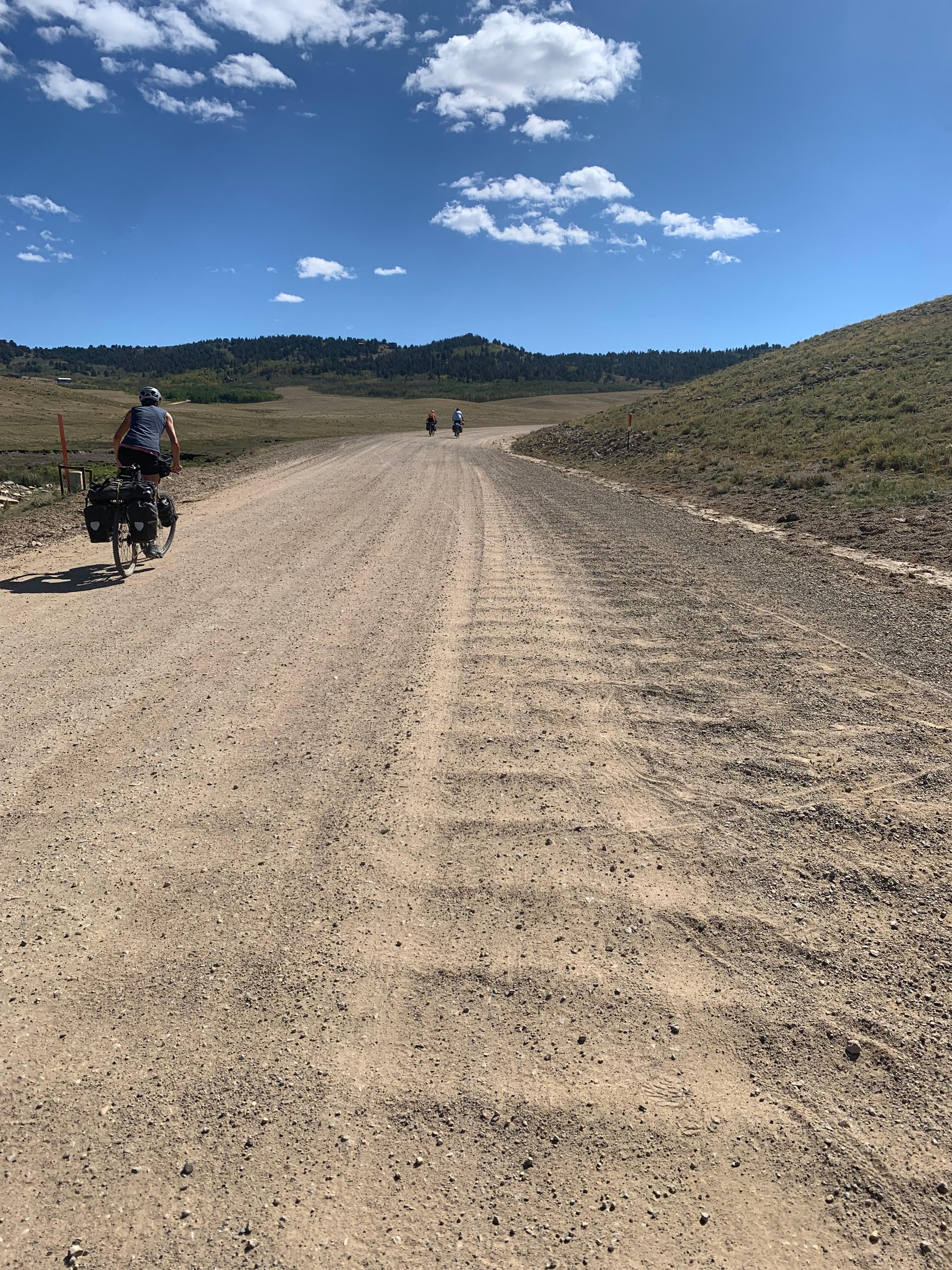 In Hartsel, I was happy to find a cafe that served awesome burgers. I was not so happy that there was not a real campsite other than a dirt lot behind the cafe. Moving to plan B, I finished my meal and headed back into the woods for another 30 miles towards Salida, the next town.
Nearing my new campsite, I saw a van parked on the side of the trail. I also saw a small dog trotting around it. Now, I know we're taught to avoid strangers with vans and puppies, but against my better judgment I stopped and said hello to the man packing an easel into the back of the van.
The man's name was Carl and his dog's name was Trixie. Carl is a local artist who had a showcase in a nearby town and was painting a cabin that I was passing by. He offered whatever he could to help me, but I told him I just needed a photo of his dog — for a friend, of course.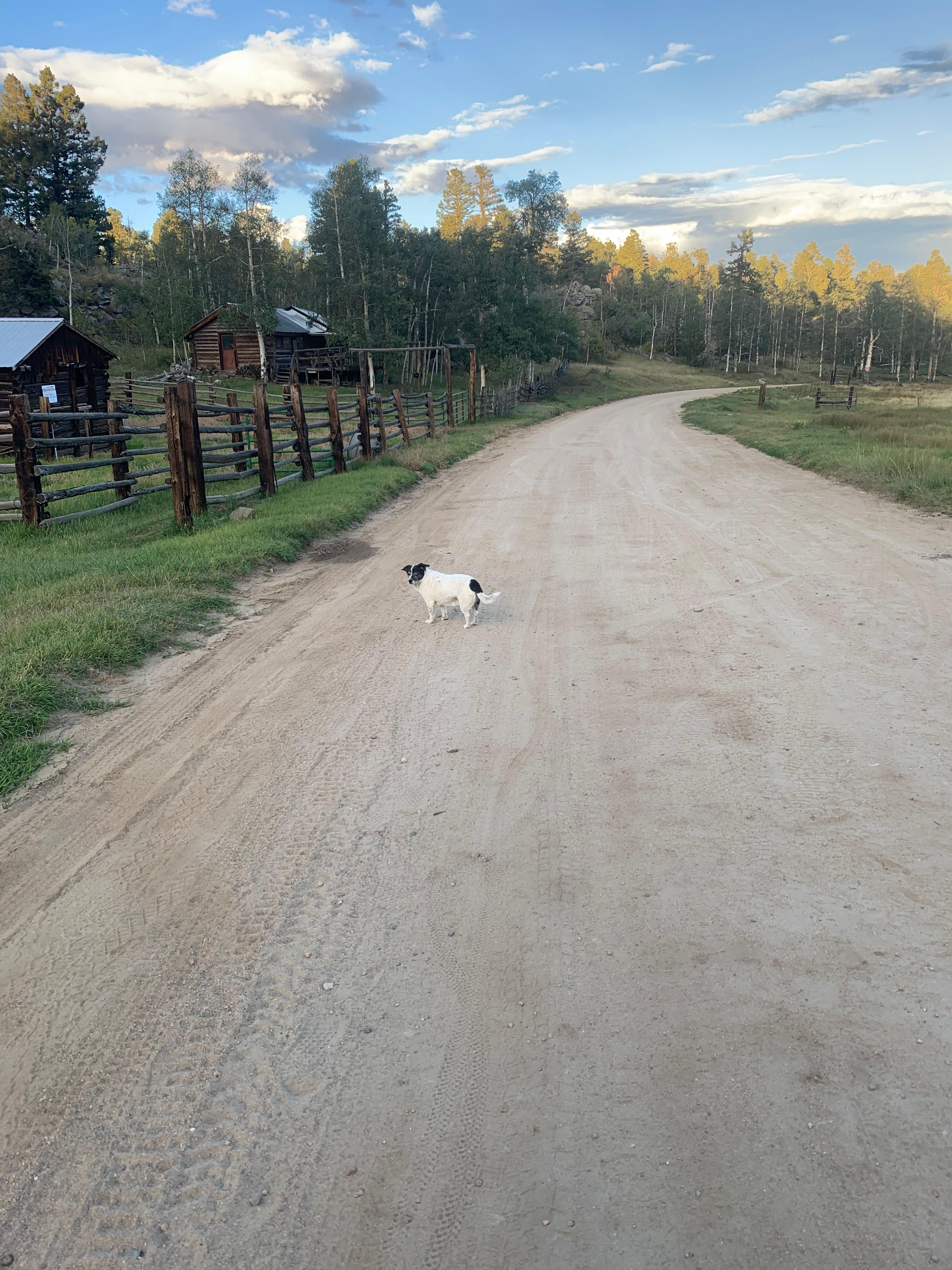 About 10 minutes after meeting Carl, I arrived at camp. And by camp, I mean the side of the dirt road underneath a power line. Once again, not ideal, but it did have a nice view. No complaints.
After getting settled in, the sun quickly went down and I headed into my tent. That's when the first howling began.
Not sure how close the pack was, I tried to put the thought out of my mind. And, that's when the elk started up. Not nearly as afraid, but certainly startled, it became clear that I have neighbors for the night. Hopefully, they're friendly.
The howling came again from the left, this time it was longer and sounded like there was more of whatever animals lurked in the darkness. Matching in proximity, the elk chimed up again, this time making a distressed call as it thundered through the nearby woods. Following this sound, I could hear another elk screeching in the distance — the elk was calling his friend.
Since then, the elks haven't made a call in a while, so I will assume they found their friends. The coyotes or dogs… stay tuned.
UPDATE: I'm going with dogs. Most likely dogs. I say this because it's 3am and there is one barking at my tent. I'm not sure how close it is, but I do know one thing — it would be hilarious if the Pedaling for Pups team was mauled by a dog.
The dog eventually stopped around 4am and moved on. I did manage to sleep for a few hours after that, but needless to say, I packed up quickly in the morning.